37G Impact Label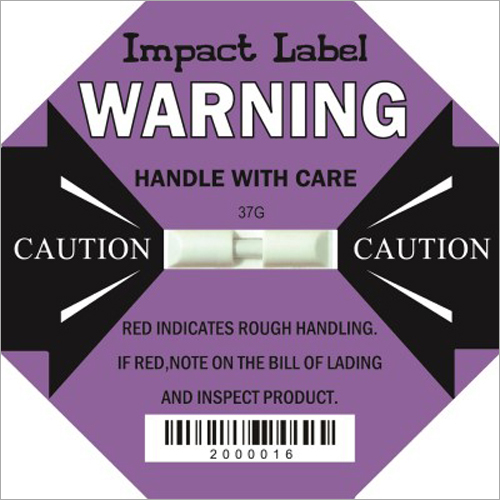 37G Impact Label
Price And Quantity
Product Specifications
Red indicate rough handling, if red, note on the bill of lading and inspect products

Easy to install
Product Description
37G Impact Label (L-55)


Being the customer oriented organization, we take quality as our prime concern during the manufacturing of 37G Impact Label in order to ensure its superior functionality under all weather conditions. It precisely detect the conditions like vibrations, impact and falling which can become a cause of product damage during transportation. Once the limit exceeds 37G, the indicator window turns red from white and cannot be reset. 37G Impact Label is suitable for the products like LCD substrates, fine arts, precision equipment and communication equipment etc.


Advantages:


Patent certified
Make delivery man more attentive
Minimize the events of shipping damage
Warns before any kind of product damage
Clarify the responsibility of product damage
Precise and accurate judgment of impact force (g)


Enterprises always have to face the transportation damage. This damage doesn't only increases damage cost, but also hampers the brand image. Customers repeatedly complain about the damaged products they receive and all the damage is caused during the transportation process. It has a bad impact on enterprises when it comes to lowered customer's trust.

Product introduction:

Impact Label 37G is designed to quickly detect any shock during transportation. It is glued to the carton containing the product for detecting if the product is subject to impact, fall or vibration. The indicator window color will change from white to red when it exceeds the set 37G value. It is then not possible to reset the color.

Function:

Impact Label is like fragile sticker that is attached on the package. The delivery personnel can keep a tab on the products whether they are subjected to any kind of shock or impact, or not through this label. When labeled, the products are carefully loaded, transported and unloaded. This is why, the damage rate of goods is reduced by over 70%.


Specification :


| | |
| --- | --- |
| Product name | Impact Label 37G |
| Dimension | 97mm*97mm (3.82 in 3.82in) |
| Operating temperature | -25C to 80C (-13F to 176F) |
| Sensitivity | 37G |
| Tolerance | 15% |
| Reaction time | 0.5 50 ms |
| Installation | Back adhesive |
| Shelf life | Two years |
| Packing | 50pcs/box, 1600pcs/carton |
Trade Information
Free samples are available

Please Contact us for more details.